For the last couple of years, larger app contests for Windows Phone and Windows 8 devs in Croatia were held approximately every year or so. This year is not different - a Windows 8.1 Developers Contest is organized, only this year it's much much bigger. There are more prizes than ever, and Croatia is just a part of the big picture - participants from 12 countries can apply! Read more to find out about the countries and prizes!
The contest is organized by Microsoft entities in participating countries, and those are: Armenia, Bosnia And Herzegovina, Bulgaria, Croatia, Cyprus, Estonia, Kazakhstan, Latvia, Lithuania, Malta, Serbia and Slovenia. To enter the contest you have to develop a Windows 8.1 application and publish it to the Windows Store. After you do that, you have to register on the promo site. Your application must be published and registered by March 30th 2014. By May 5th 2014 the Microsoft jury will determine the winners of 42 Prestigio MultiPad Visconte tablets! Prizes will be given in various categories, including best UX design, most innovative app, best app migrated from Windows Phone etc.
EDIT - This competition just got so much better - the prizes have been changed a bit - 16 amazing Lumias 1520 have been added instead of 12 Prestigio MultiPad Visconte tablets!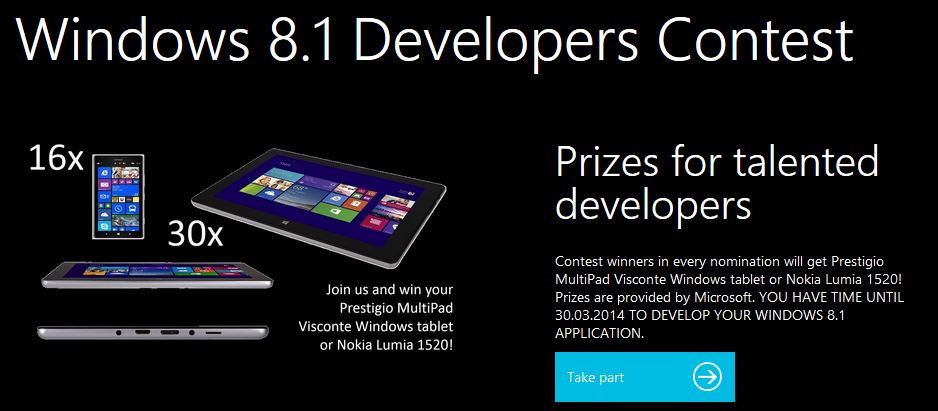 If you're on Facebook, make sure you join the official Facebook group of the contest:
https://www.facebook.com/groups/1438123243071314/
Have in mind that only apps that are first time published during the time of this contest are eligible to compete, which means that you are encouraged to think of and create new, exciting and even locally relevant apps!
The main website for the contest with all the terms, conditions and details is:
http://winappdevcon.promorc.com/
Follow both the official website and the official Facebook group (if you can) because during the contest period, local Microsoft entities are organizing Windows 8.1 development trainings in most of the eligible countries. It's the best way to keep track of the offline events that may happen in your country!
Read all the rules, and have fun developing new apps! If you are a Windows 8.1 developer living in one of the eligible countries, this Windows 8.1 Developers Contest is a great opportunity for you, don't miss it! The contest has already started - what are you waiting for? :) You have 40 days until the contest ends. :)