Advanced Technology Days is a two-day conference that took place in Zagreb, Croatia on December 4-5. I was among 20 developer speakers in the developer track, and I held a session about Nokia Imaging SDK for Windows Phone 8.

Two years ago I attended Advanced Technology Day conference (notice the 'Day' - this year it was 'Days', two days instead of the usual one day which was the case in previous years). A Twitter wall was set in the hotel lobby where the conference took place, and I was unhappy with my Twitter picture. I wanted to upload a new one, but I was also relatively unhappy with what I had on my device - I wanted to crop the photo I had, resize it to be smaller and upload it. Being a developer, I decided to write my own, and that led to my dear app Photo Light.
Having the experience in photos on Windows Phone, I was really excited to be (back) at this conference speaking about Nokia Imaging SDK. Oh if only I had this SDK 2 years ago when I started working on Photo Light! I am now working on an update to add more and more Nokia Imaging SDK to it, though.
The goal of the session was to explain to the audience what exactly Nokia Imaging SDK is (awesome imaging library with 50+ filters and effects and great performance) and what it isn't (UI controls to do all the imaging work). I wanted everyone to leave knowing that the SDK exists and that they can use it for free even if they have no previous experience with photo editing and even if their app is not strictly a photo editing app. For example, are you looking to make it possible for your user to edit the photo before uploading to Twitter through your Twitter client? This is the SDK for you.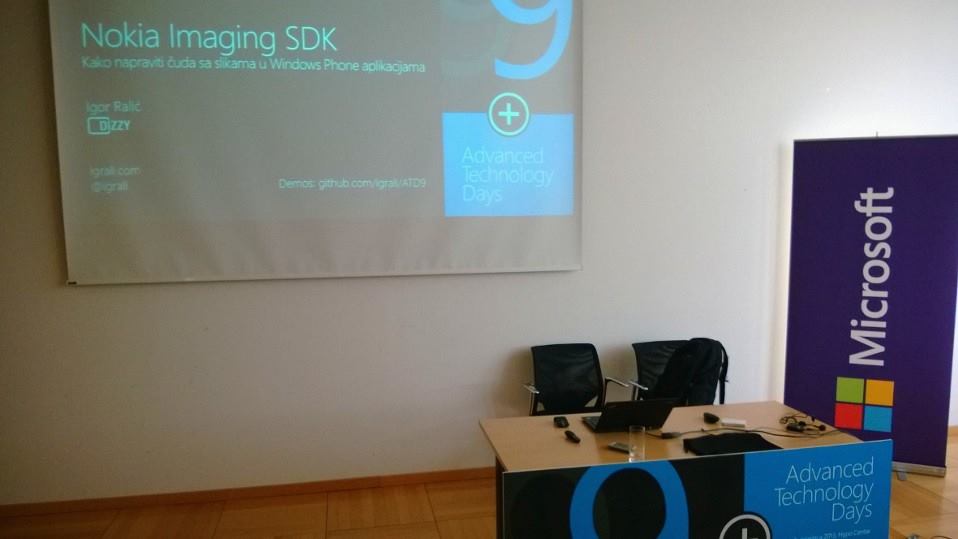 The demos and the presentation (in Croatian!) can be found on my GitHub.
Are you using Nokia Imaging SDK? What for?