I noticed an interesting hashtag on Twitter today, started by Jay Bennett, which is usually followed by screenshots of developer's app download statistics. We're not trending yet, but you can help by joining :)
So, the hashtag in question is #wpdevDownloads. It basically serves for showing the number of downloads of your Windows Phone apps as a screenshot of the chart from the Windows Phone dev Some people don't want to share their download statistics and that's perfectly fine. The reason for that can be simply personal, but other may consider it a sort of a professional and business secret. You can share just the chart without the actual download values if you wish, too.
Seeing those graphs is an interesting insight, though. You can really learn from other people's experience - what causes spikes in downloads, what causes downloads to suddenly drops, how does all that relate to pricing, trials, in-app purchasing etc. I shared mine, too.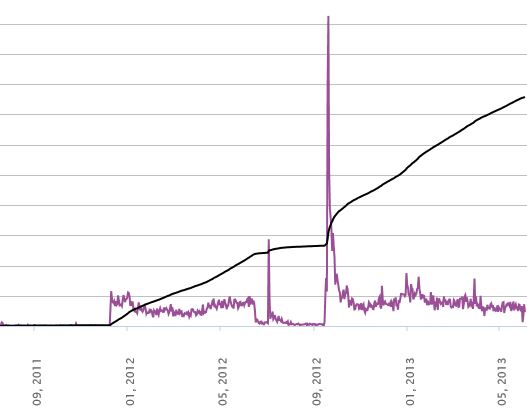 What happened in my case was that the number of downloads dropped last summer when I tried to charge one of my apps ($0.99). I offered the trial version which was fully functional, but had ads inside. Prett much nobody downloaded the trial. At one point the number of downloads dropped so badly, that I decided to make it free again, and that's the reason for the huge spike. In-app purchase model may be better in my case. :)
Here are some other tweets from today:
@jaytbennett #wpdev #wpdevdownloads here is mine twitter.com/hermitdave/sta… — Hermit Dave (@hermitdave) June 5, 2013
As this appears to be a thing now (thanks @jaytbennett), here are my #wpdevdownloads #wpdev twitter.com/scottisafool/s… — Scott Lovegrove (@scottisafool) June 5, 2013
Want to share your charts? Tweet with the #wpdevDownloads hashtag!
It would be interesting to see the Crash charts, too. There was a developer event in Zagreb, Croatia, a week ago where the developers of the most popular Croatian apps (including me) shared their Windows Phone developer experiences. Read more about it here!