Part of every great technology conference/event is an app for at least one major mobile platform which makes it easier for the attendees to get around. It usually offers information about speakers, sessions, often has a Twitter part showing the latest twitts with the official hashtag etc. To make KulenDayz and MVP CEE & Italy Regional Summit events even better this year, the organization team developed Windows Phone and Windows 8 apps. Domagoj Pavlešić developed the Windows Phone app, and I worked on the Windows 8 app. Check out what we've got for you!
If you haven't downloaded the Windows Phone app, I highly encourage you to do so.
It offers every piece of information you might need about the conference, even about the pre conference part which includes info on accommodation, offers routing to the place etc.
The idea behind Windows 8 app was to have the usual features mentioned in the post introduction on a large touch screen. Therefore it covers information about sessions, speakers, twitts on the official hashtag (#kulendayz for KulenDayz, #ceemvp12 for MVP Summit), weather information (rain, please skip this weekend, would you?) and gallery of event photos which I will be adding as we go. It will be running on only one device which will be placed at the registration/info desk connected to a 22'' Full HD touch screen. It's a WinRT app written using XAML+C#.
Now, before we go any further, I'd like to write a short disclaimer: the touch screen is not designed for Windows 8, but Windows 7. It offers multitouch up to 2 touch points, it has elevated edges so swiping to get charms (right edge) and swiping between apps (left edge) needs some trial and error (it works, you just might not get it the first time you tried). Also, there are different touch screen technologies available today. When it comes to smartphones, we're mostly used to capacitive touch screens, which work by sensing the conductive properties of an object, usually the skin on your fingertip, which makes it more responsive to gestures such as swiping and pinching. The screen we'll be using at the events uses optical imaging technology which can have some accuracy issues in the corners. We are still waiting for the official Windows 8 release in October to get the best of touch screens.
The Windows 8 has a main screen that acts as a dashboard. You swipe right and left to move around, and here's what it looks like:

It shows the overview of sessions, speakers, Twitter, gallery and weather. Sessions are grouped by tracks, and speakers are grouped by last name. They are all live tiles! Twitter shows the latest 6 Twitts and the weather part shows the weather for the next 3 days. The back button is represented by KulenDayz logo – a small piece of kulen. I think it's really cool, but there's more!
If you tap on the Sessions title, "show more" or any session track tile, it takes you to the page with the agenda. Try zooming in and out (pinch and zoom). This is zoomed out view: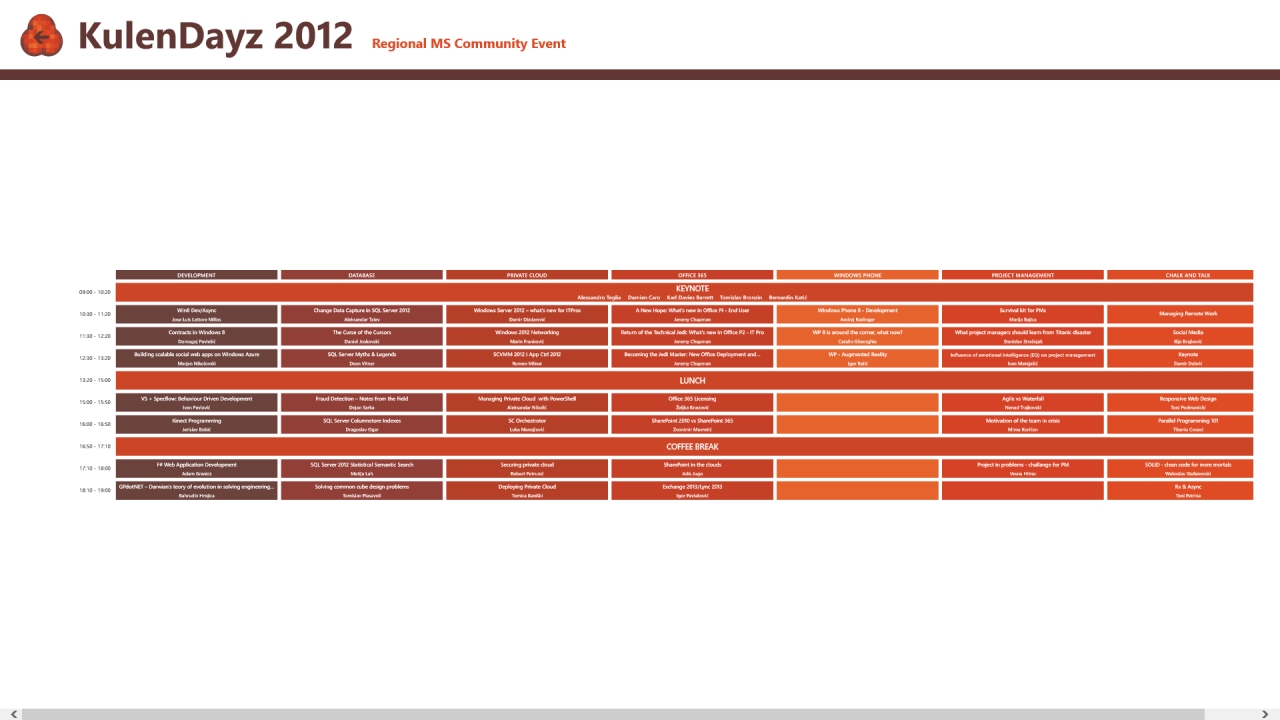 Agenda is displayed similarly to the one on the official website, and every track has a different Kulen color theme. Therefore every speaker has a background color of the track that it's part of. If you tap on any of the sessions, you get a page with session details.
It shows the title, track, time slot, map of the event place, list of speakers and a short description of the session. It's all inside a control called FlipView so you can swipe left-right to see other sessions, too, without going back to the agenda! Cool!
Back to the home page. From there, you can also tap on speakers and then get the whole page just for speakers (again grouped by their last name). Try pinching and zooming out to see what happens. :)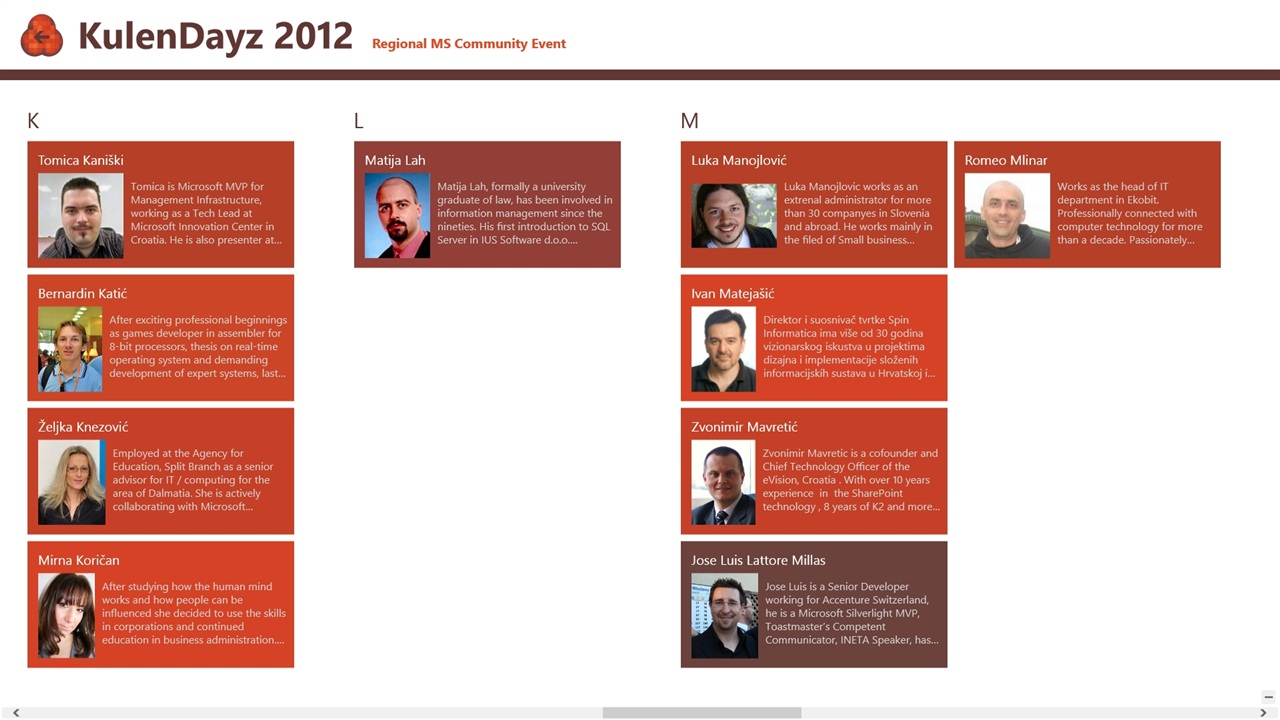 From there, tap on any speaker to get more details about her/him!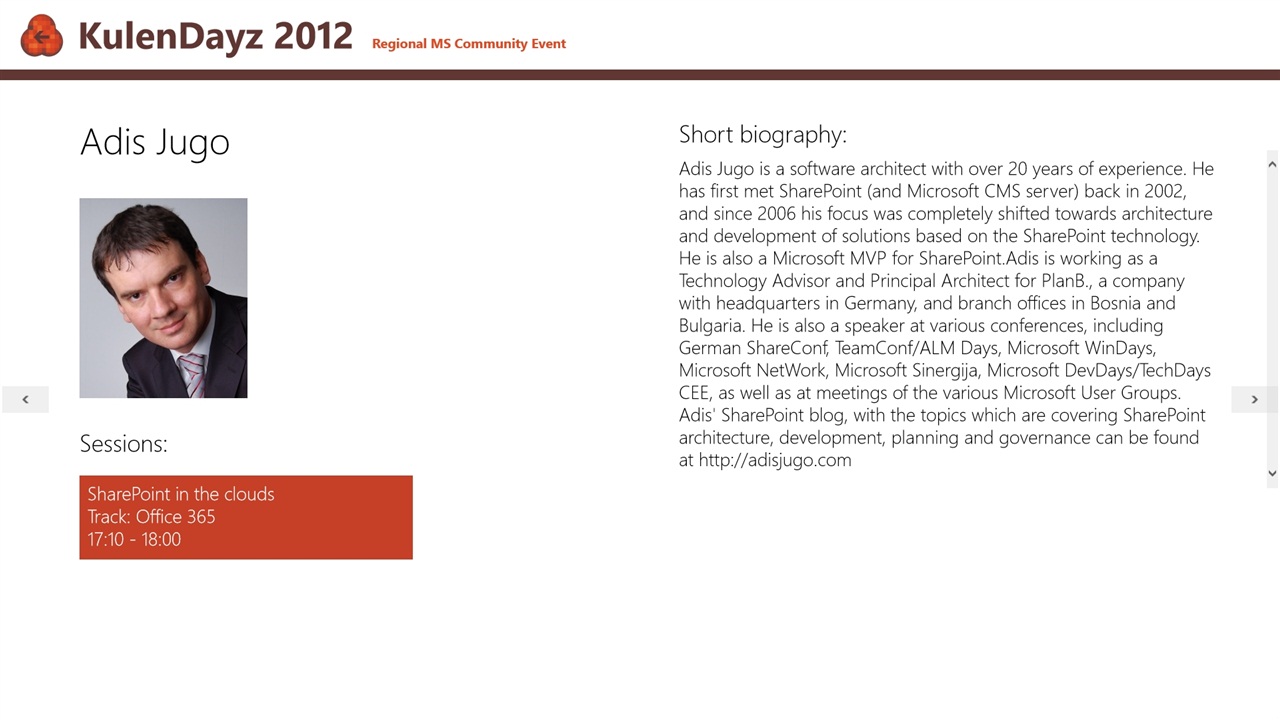 All the speakers are also inside a FlipView. Swipe right-left to get others!
Again, back to the home page. If you want more than 6 Twitts, tap on show more or "latest on twitter" title!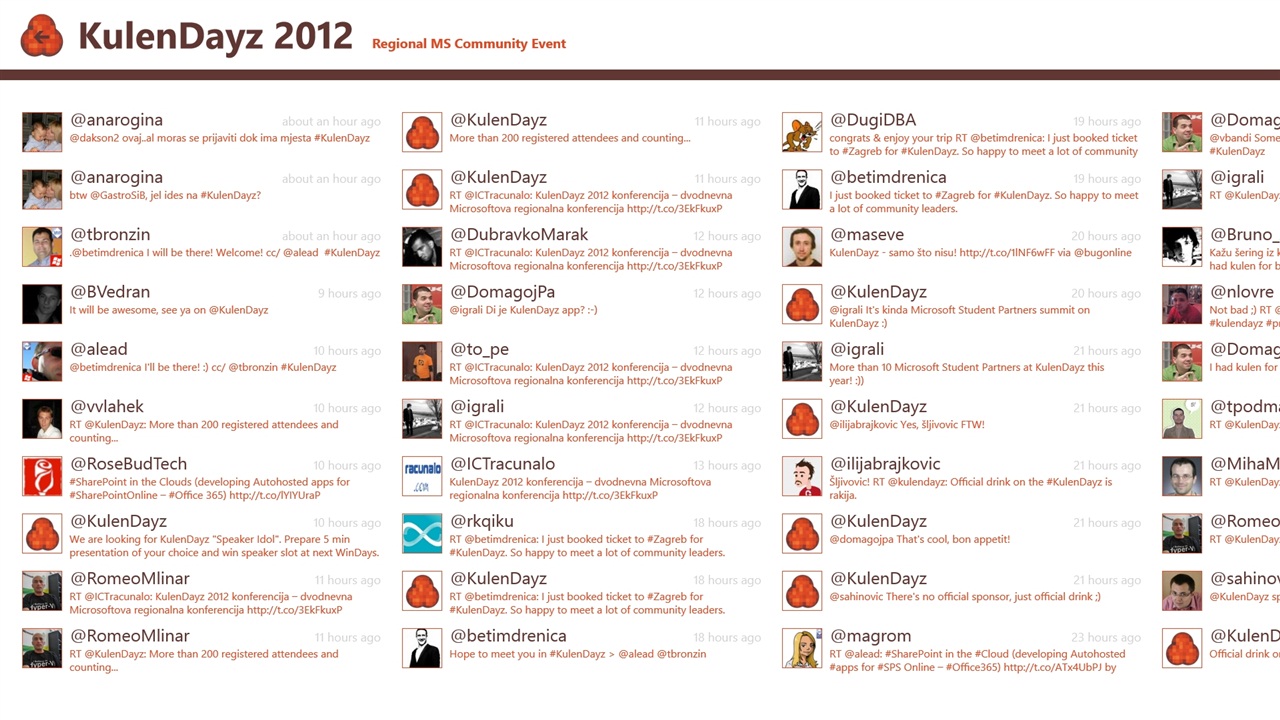 It opens a page with a GridView full of twitts. Try tapping on one to see what happens!
There is one more page that you can go to from the home page, and it's the gallery. We don't yet have any picture of this year event, so I put the pictures from 2010 event, but as the event gets started, I'll be adding the pictures from this year. All the pictures are in a FlipView control so you swipe right-left to move around, and there's a small list at the bottom of the page which displays where you are in the gallery, so by tapping on one of those small thumbnails you can easily jump to any other picture.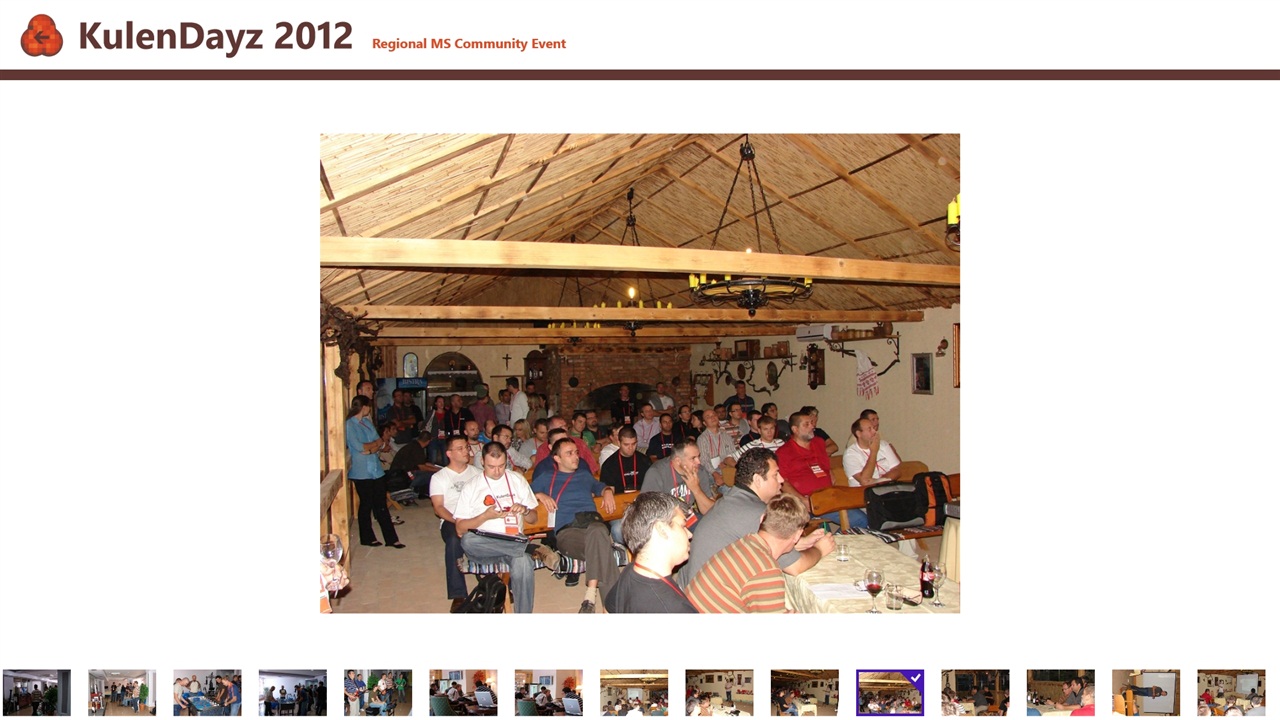 Oh, BTW, you can also zoom in/out of the picture. :)
The weather part of the dashboard simply displays some basic information. Nowhere to go from there really. But, I'd encourage you to try snapping any of the mentioned pages to see how it scales nicely and looks great!
Considering we are actually doing 2 events this year, with different theme colors, branding, sessions and speakers, I created the MVP Summit part in this KulenDayz app. So the first screen you actually get when you run the app from the start screen is this: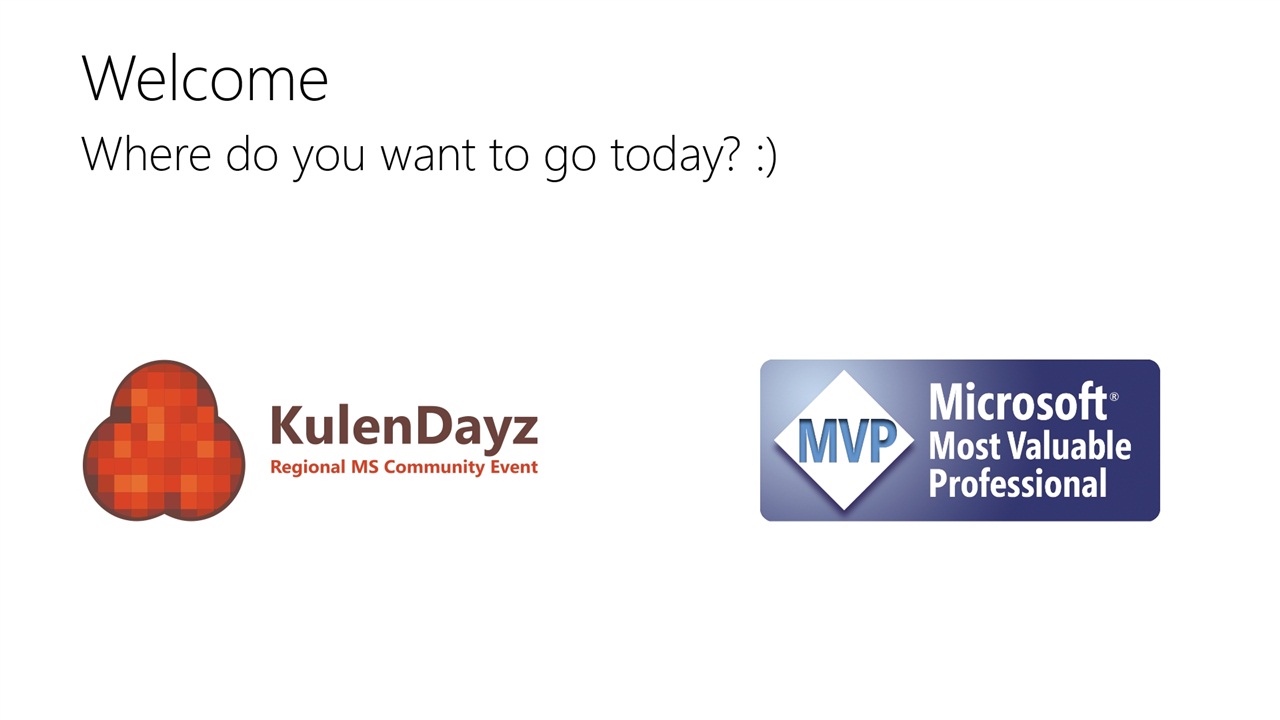 From there you either go to the KulenDayz dashboard, or to the MVP Summit dashboard. Let's take a look at the MVP Summit dashboard:

It's similar to the KulenDayz one, and pretty much shares the design, except that the MVP part has the agenda and speakers part immediately on the dashboard because there are only 4 speakers and sessions.
There may be small design changes by friday/saturday, but this is it. The core functionality implemented to make KulenDayz and MVP Regional Summit truly great events!
I will be around the registration/info desk most of the time (except when delivering my session) at both events, and so will the hostess and guys from the organization team (we wear orange t-shirts, in case you have any question :) ), so if there's something more about the app you'd like to know, don't hesitate to let me know!