Perica is the latest Croatian Windows Phone application on the Windows Phone Marketplace, and the first Windows Phone application that I've published. I am going to give a few details about the application.
Perica is a small timing application. It can serve as a stopwatch and a timer (at the same time, of course), and it's themed in the colours of your Windows Phone! You can also use application settings to enable Run under lock option, which can be very useful in case your Windows Phone locks quickly. You can also choose whether or not to use sounds or vibration when the timer ends. This way, you are in control what Perica does! :)
The first part of the app is a simple stopwatch.
There are two simple buttons, one to start and stop the stopwatch, and another to use for laps. Laps are immediately shown in a list under the buttons. There are two buttons in the application bar, one for application settings, and another that shows info about the application. Both time and list of laps are a part of application saved state.
The second part of the application is the timer.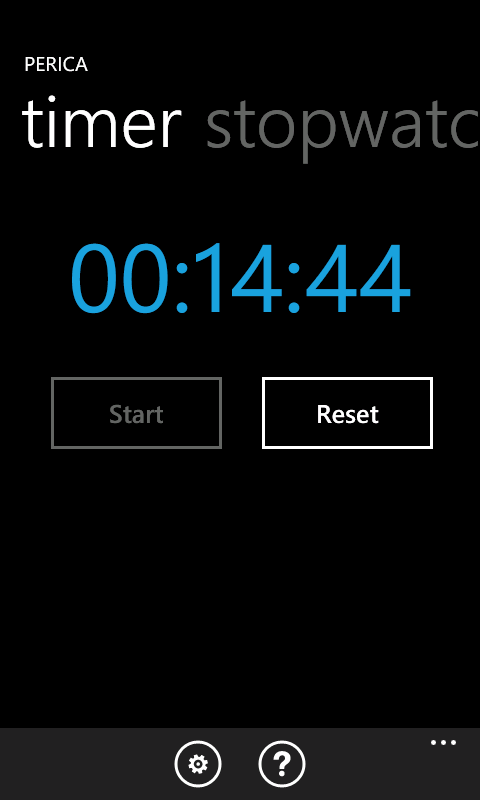 The timer can simply be used for countdown when you want to, for example, boil an egg or two, but not too hard. It can notify you using sound and/or vibration, and it can also run under lock. But be careful - running under lock may drain your battery more quickly. If you use sound notification, it will stop the music you're listening to in the background to notify you.
The application settings are very simple: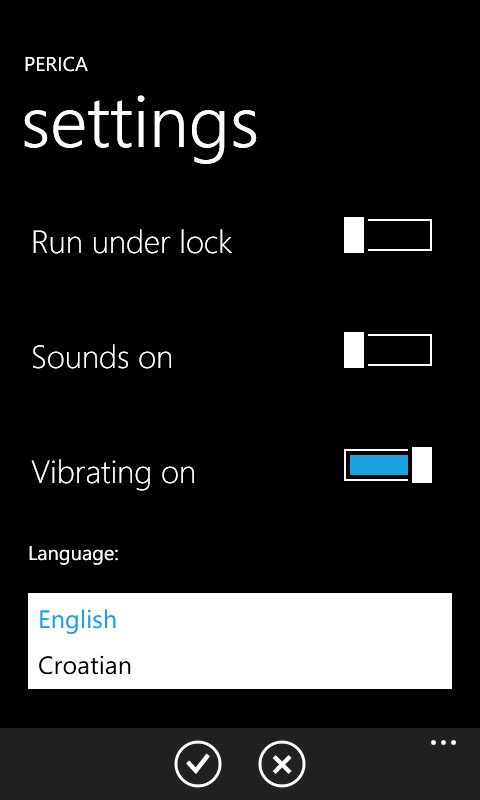 What's interesting about this is that you can use it in both English and Croatian, which makes Perica the first Croatian multilingual Windows Phone application. :)
When I started developing this application, I wanted to "solve a problem" which is simple and solvable in a day or two, but which would let me test the whole certification process for the Marketplace (I will write about it in one of my next posts). In other words, I wanted to prepare myself for all the future Windows Phone projects that will, I hope, be more complex and more relevant.
I am aware that there are more than 10 stopwatch applications on the Marketplace, but I am hoping that it will be adopted by the Croatian Windows Phone users (at least), since it's working good, it's good looking, simple, in Croatian, and free!
It's been on the Marketplace for a week, and it's already been downloaded in Vienna, Dresden, Berlin, Madrid, Zagreb, Auckland, New York, Washington, Florida, Auckland, Lagos... Give it a try!